Spamproof guestbook for websites!
---
Are you looking for a guestbook with spam protection for your website?
In addition to our contact form, we can also provide you with a spamproof guestbook script offering a full range of functions! The PHP guestbook features an appealing design (Responsive Design) and is extremely easy to install and customise. It also offers the user a range of snazzy smileys!


Are you getting guestbook spam despite CAPTCHA? Not with our guestbook!

Note: The download link is at the bottom of the page!
Guestbook Demo (Responsive Design)
Guestbook appearance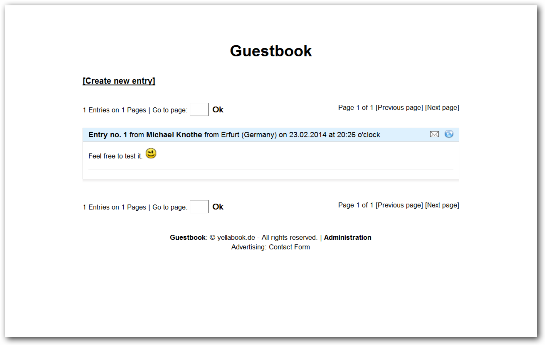 Leave a message



Admin area (Username: gbadmin Password: gbpass)

Guestbook Features
Three-tier spam protection: time-out function, hidden field and security question (on/off)
User-friendly configuration via the admin area
Edit, delete, add comments
Moderation mode / approval function (on/off)
E-mail notification (on/off)
Insert smileys by clicking on them
Time-out function protects e-mail addresses from bots
Set the character length of fields
Set the number of posts per page
No knowledge of PHP or other IT skills required!
Barrier-free - valid XHTML/CSS and responsive!
Responsive Design / mobile-friendly - Optimized for smartphones and tablets!
No MySQL database required (only uses .txt files)
Customisable design using a style sheet and templates
Multilingual (you can choose which language to use)
A complete overview of all functions is given here: Guestbook functions

Download and install guestbook
The guestbook is only available on the manufacturer`s website YellaBook.de. The website also contains the installation manual and the licence conditions.
Go directly to the download page: Guestbook Download
Individual Formmailer
Do you need an individual inquiry form for your homepage? No problem! Write to us!